The Marlins Are Interested In On Cuban Out Fielder Jorge Soler
According to CBSSports.com baseball writer Jon Heyman, the Miami Marlins are interested in on Cuban out fielder Jorge Soler.
#marlins one of many other teams in on phenom jorge soler, 19. its not just the #cubs, not by a long shot

— Jon Heyman (@JonHeymanCBS) February 15, 2012
Scouting Book's Report on Jorge Soler: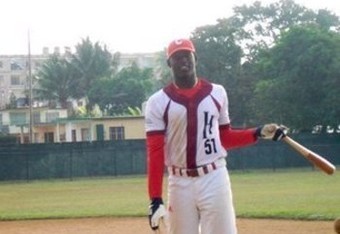 A tall and lanky teenager who arrived in the Dominican Republic  in the winter of 2011, outfielder Jorge Soler is one of the most promising Cuban prospects in baseball today. He's already shown off his tools in Dominican Republic, and while he looks like a centerfielder right now, his size and young age make it quite possible he'll be a corner fielder when he finishes growing, especially if his loopy power swing develops as expected. He's already showing the signs of that very-likely plus power, and his very strong arm is certainly real. His contact skills and lack of patience at the plate, though, are equally clear indicators that he's still a very rough gem.
One bonus for his future MLB home: the youngster has an electric personality already in his toolbox, which means he could be a real poster boy come 2015 or so.
Latest New:
Baltimore Orioles will work out with Soler on Sunday in Dominican Republic
Jorge Soler worked out with the Toronto Blue Jays today.
There were a lot of rumors that Soler had sign with the Chicago Cubs yesterday, but those rumors were false
Teams Interested:
Miami Marlins
Chicago Cubs
Chicago White Sox
New York Yankees
Philadelphia Phillies
Boston Red Sox
Baltimore Orioles
Ken Rosenthal compares Soler's power with Miami Marlins outfielder Mike Stanton.
Scouts say that Soler, a 6-foot-3, 205-pound right-handed hitter, possesses power comparable to that of a player with a similar build, Marlins right fielder Mike Stanton. Soler does not run as well as Stanton, however, and ultimately could end up at first base. Click here to read more of Rosenthal's Article.
Thanks For Reading Fish Fans! Remember to Like Us On Facebook Marlins Nation and Follow Me @JacoboHakim and Our Official Twitter @MarlinsNation1!