Recap: Marlins @ LA Dodgers Game 2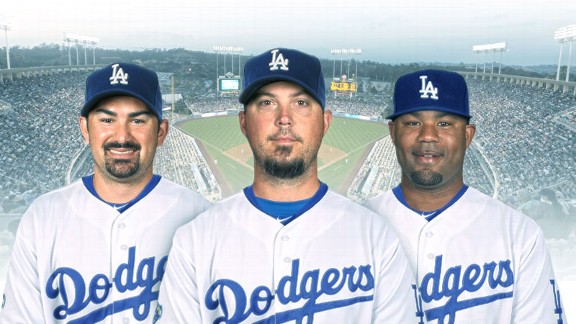 Will the late season hail Mary of LA get them into the playoffs or will the pass be intercepted by the Giants and become the biggest trade bust of the season?
Last night the Miami Marlins faced a new LA Dodgers team, a team with 4 new players that cost them $262 million dollars. The Dodgers add Adrian Gonzalez, Carl Crawford, Josh Beckett and Nick Punto in what is being called the biggest block buster deal in MLB.
Adrian Gonzalez would not make the Dodgers wait long to see if this deal would be worth the cash they dropped, as Adrian Gonzalez steps up to the plate for his first at bat as a Dodger Josh Johnson gave him a cookie and he belted a 3 run home run blast that didn't have a chance of staying in the park. As Gonzalez rounds the bases the crowd erupts into a standing ovation and demand a curtain call from the all star first baseman.
Josh Johnson struggled to keep the ball down in the zone in the 1st and the Dodgers send 9 batters to the plate in the first inning.Josh Johnson threw 45 pitches in the 1st only 29 strikes and gave up 6 hits, 4 earn runs, his worst first inning I have ever witnessed.
Wade Leblanc would start warming up in the bullpen in the first inning just days after he was moved from starter to relieve pitcher, and he may need to pitch some long innings tonight. In the 2nd inning the Man Child known as Giancarlo Stanton took the first pitch he sees from Dodgers ace Clayton Kershaw and blasted a 452′ bomb and nearly 6 rows away from out of the park.
Josh Johnson toes the mound in the second inning and gives up another home run to Mark Ellis giving the Dodgers a 5-2 lead. Josh Johnson would only last 3 innings and 89 pitches and giving up 10 hits and 6 runs.
Wade LeBlanc in to pitch the 4th & 5th innings giving up 1 run on 3 hits, Chris Hatcher would pitch 2 innings giving up 1 hit before handing the ball to Heath Bell who would give up 1 run on 2 hits, and 1 walk.
The game was won on one swing from new comer Adrian Gonzalez as his 3 run home run would be the only hit needed to beet the Marlins tonight. Andre Ethier is on fire for the Dodgers he tied a club record for consecutive hits wit 10 when he went 4 for 4 2 nights in a row scoring twice and hitting 1 home run with a RBI. The slumping Matt Kemp came through tonight going 3 for 5 scoring once as well. Mark Ellis, Luis Cruz & A.J. Ellis all record multiple hits tonight. All in all a great night at the plate for LA.
Stanton now with 84 Home runs, ties Mickey Mantle, Andruw Jones for 9th most by players before age 23.
Giancarlo Stanton has hit 8 HR's of at least 450 feet this season. Next on the list: Miguel Cabrera with 4.
The Marlins look to avoid a series sweep by sending Mark Buehrle 11-11, 3.69 ERA to the mound to square off with Aaron Harang 9-7, 3.65 ERA. Harang 0-2 in his last 2 starts at home has not faced the Marlins this year. Buehrle has not pitched in LA since June 24th 2008.
Author: Nick Crawford SR
Follow me for all your Marlins Previews & Recaps @donkeypuncher74